William A. Edwards years of involvement 1898 to 1960
John Sitting Bull
Shields Thunderbull
Dewey Beard
Little Chief
Black Dog
Big Elk
White Bull
White Bull no. 2
Jacob Hastings Goodshot
Josephene Bissnett
Black Tail Deer
Dan & Ida Blue Cloud
Moses B. Necklace
George Strikes Enemy
Rick Iron Crow
James Galligo
Oscar Goodshot
Frank Loafer Joe
John Kills in the Water
Edward Charging Eagle
American Horse
Eagle Man
John Bird Head
M. Smoke
Edward Eagle Heart
Dave Bullbear
Mr. Witt
James Locke
Karl Eagle
Big Turnip
Oscar Bearrunner
Mr. M. Martinez
Mr. Montean
John H. Buckman
Roan Bear
Judge Frank Zahn
Big Horse
One Bull
Matthew Eagle Heart
Stanley Red Feather
Ben Black Elk
John Red foot
Dan Blue Horse
"Old Faith full" John
Levy Martin
James Red hawk
Spotted Tail
Martin White Bull
Crazy Bull
Dave Bull Bear
John E. Connolly Jr. years of involvement 1976 to present
Francis Shangreaux
Valerie Shangreaux
Lily Shangreaux
Rick Shangreaux
Norman Janis
Jessie Janis
Mathew Eagle Heart
William Eagle Heart
Mathew Eagle Heart II
John Brown Thunder
Joe Bear Nose
Charlie Under baggage
Cordilia Attacks him
Mike Her Many Horses
Zona Fills-the-Pipe
Josephine Afraid of Bear
Keith Moore
Mike Her man horses
Louis Whirlwind Horse
Pete Catches
Frank Fools Crow
Al New Holy
Martha New Holy
Jane Nauman
Larry Belitz
Matt Two Bulls
Nellie Two Bulls
Wasau
Brother Simon
Wanda Red Paint
Hope Red Paint
Darlene Kills Enemy
Geraldine Kills Enemy
Geraldine Yellow Horse
Doloris Shangreaux
The traditional thinking offered within this contemporary movement, Warriors of the Lakota has been made possible through the perseverance and dedicated efforts of two non-native historians, William A. Edwards & John E. Connolly Jr. The perspectives and extraordinary knowledge which these men were awakened to throughout a span of 119 years (1898-2017) are a direct result of their involvement with many Indian kinships of the Great Sioux Nation. The following names of native families, as well as individuals offer just a glimpse of the numerous respected Pine Ridge and Rosebud (South Dakota Sioux Indian Reservations) relationships which these two men developed during their lives. We would like to acknowledge the following native people by listing their respected names in random order. The first roster shows those who participated from 1898 through 1960 and the second from 1976 to present.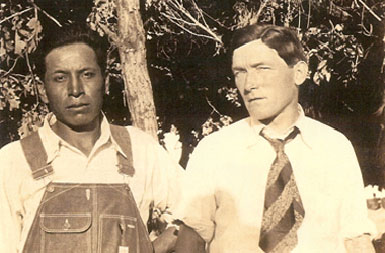 In Their Own Words...
While compiling the information that this organization is now offering on our website, we spent seven years (2001-2008) studying and writing the direct narratives from many Native friendships. The greater part to these sources of information are both fortunate as well as invaluable. For they reflect real and authentic communications of Indian feelings and attitudes and are told in their own words. During this period, annual June visits to the Pine Ridge Indian reservation also helped immensely to visit, interview and film Lakota families who could help in resolving any errors or other issues of concern while documenting this undertaking.
The Dangers of Self-Righteousness...
Everyone seems to think that they are experts when it comes to analyzing another culture or race. We believe that this is a very dangerous undertaking. For when one race sets out to examine & dissect another, there is always the possibility of mistaken attitudes, exploitation or superior feelings. Therefore, non-Indian involvement throughout this experience wishes only to serve as 'helping-hands' or 'minor facilitators.' This work will strive to have collective voices from Indian communities be better heard with proper balance and equal representation.